In the circus, the ringmaster tells the audience that the surprises never stop coming, and one has only to look at the past few months for testament of that in digital cinema. The biggest news is that the industry has shifted focus to 4K. Nearly as significant, the growth rate for new digital screens in the rest-of-world now matches that of the US. And certainly not so surprising, 3-D installations have driven the growth of digital cinema screens worldwide.
With Digital Cinema Implementation Partners (DCIP) in a stall for financing, digital cinema growth in the US has been significantly less than expected. However, it has not been stagnant. More US installations have already taken place mid-2009 than the whole of 2008. The bulk of these, as can be seen in the chart below, have been 3-D, thanks in large part to Disney and Mr. Katzenberg.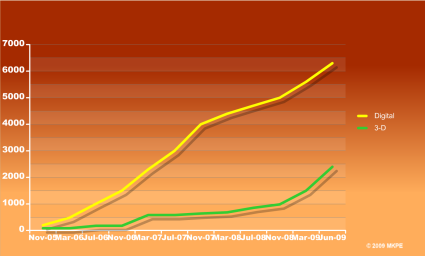 Digital Cinema Installations (US)
The growth of screens in the rest-of-world now equals that of the US, with some 700 screens added so far this year. Not all of this is through deployment entities. According to Disney, 25% of digital screens in the world are not managed by deployment entities. This has dramatically increased the pain studios such as Disney (and their fulfillment companies) experience when managing digital certificates for the generation of movie security keys. In particular, it brings to light the need for stand-alone key management products, which up until now has only been the domain of deployment entities.
While 3-D has been the driver for new digital cinema installations, some exhibitors have been looking ahead. For a number of reasons addressed in the projection section of this report, Regal Entertainment announced it would switch from installing Texas Instruments 2K systems, and instead install Sony 4K projectors. The ripples through the industry are still being felt. On the server side, both Doremi and Dolby lost sizeable potential orders. On the projector side, all three TI OEMs lost. Notably, Barco's loss would have been on the order of 3600 units. Sony's gain, of course, is tremendous. It now has commitments from both AMC and Regal, totaling 11,000 screens.
After Regal's announcement, eyes turned to Cinemark, as the third partner in DCIP, to learn if it, too, would go down the Sony 4K path. Texas Instruments made several errors that led to Regal's decision, but they were determined to not lose Cinemark, their hometown theatre chain. (Notably, both Cinemark and Regal have their corporate offices in Plano, Texas.) On June 18, the announcement was made that TI would produce a 4K DLP chip for its OEMs. Simultaneously, Cinemark released its announcement that it would exclusively use Barco for delivery of 4K DLP projectors. It was Cinemark's day to one-up Regal, and its timing with TI demonstrated that TI did its homework.
Collectively, the 4K announcements will have substantial impact on the rollout of digital cinema. Sony presents risk to buyers, as its core projection technology is analog, and its product features, including its software, lack essential capability found in more mature 2K products. Sony is working to improve its product, and its deal with Regal depends on it. But this also sends a flag to other exhibitors that Sony's system isn't ready. TI 4K also presents risk. TI OEMs won't have 4K chipped Series 2 projectors ready for installation until end of 2010, earliest. 2K Series 2 projectors can be upgraded to 4K, both media block and light engine. But Series 2 projectors won't be available until January 2010.
Exhibitors are left wondering what to do. The tradeoffs are clear. Even if feeling the need to install 4K equipment, the right 4K equipment isn't available yet. 4K will cost about 20% more, requiring a higher exhibitor contribution: up to 33% for 4K, vs 20% for 2K. In addition, there's pressure to move quickly. Studios won't pay a virtual print fee forever. At best, they will pay less in the future than offered today.
(More can be learned about VFP financing at http://mkpe.com/faqs/.)
Those exhibitors wanting to install 3-D equipment have an easier decision: 3-D can only be 2K. Although this message has been slow to get out, it should lower the bar for installing more 3-D projectors in time for Avatar, James Cameron's 3-D Sci-Fi movie scheduled for release in December. But even Cameron is hedging his bet with his recent statement at Cinema Expo that the movie will "play great in 3-D, 2-D, any 'D.' "
Digital equipment manufacturers, of course, owe a big "thank you" to 3-D. The digital installation rate peaked for Monster vs Aliens, and is expected to peak again for Avatar. However, the number of units installed per day in the meanwhile appears to be leveling. (See Growth Rate chart below.)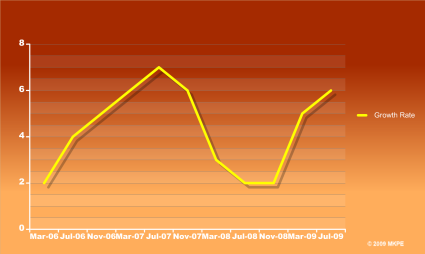 US Growth Rate
(Average Number of Installations per Day)
For comparison when reading the Growth Rate chart, the growth rate required to install the remaining screens in the US over 5 years is 16 per day.
DCIP, the catalyst-to-be for converting entire complexes to digital projection in the US, has been silent. While its member exhibitors are choosing their 4K paths before the race begins, DCIP has yet to announce the start of the race. Financing remains elusive. In understanding the challenges, one can look at rising interest rates for medium term bonds. While current rates are about that of a year ago, an anticipated rise in interest rates could complicate an offer. There is considerable hope that a portion of the $1B in financing sought will come together in time for 3-D installs for Avatar. However, for equipment to be installed in time for the movie, those orders would have to be placed soon.
Digital Cinema Initiatives (DCI) has added its own wrinkles for investors. After giving manufacturers "design-to" tests in the form of its Compliance Test Plan v1.0, in May DCI added more tests in its v1.1 version, which will lead to further engineering of many products. Accordingly, the goal for achieving DCI compliance has been moved off to the end of 2010, at its earliest. Continued meddling with its specification and test plan does not bring confidence to the investor community. All deployment agreements specify that the equipment must be DCI compliant, and DCI compliance itself remains elusive, financing is further complicated.
In June, the US-based National Association of Theatre Owners (NATO) stepped up to push the industry towards implementation of the accessibility features required in digital cinema, without which exhibitors cannot comply with the Americans with Disabilities Act (ADA). The urgency of this push caused the industry to separate the goal of achieving "SMPTE DCP" compliance from DCI compliance. SMPTE DCP is the fully standardized distribution package, which includes royalty-free accessibility features. The goal for achieving "SMPTE DCP" compliance is targeted for April 2010.
In summary, 2009 could be as arduous as any in the past for digital cinema. Higher interest rates could put off DCIP's move to raise money through bond issues. The sudden surge in demand for 4K, and the delays that will accompany 4K delivery, will inevitably push off non-3-D purchases into 2010 and possibly later. As such, 3-D continues to be the driver for new installations. The end-of-year release of Avatar, coupled with the knowledge that 3-D can only be 2K, promises to continue that momentum.
______
The remainder of this report provides a review of the activity and challenges for the major technology and services providers in digital cinema. Unlike prior Industry Reports, the companies in this report are organized under their primary product or service area.