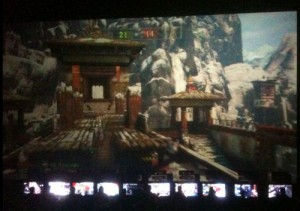 Sony Electronics sells not only digital cinema equipment, but through a completely separate division, also bundles that equipment with alternative content and financing. Perhaps most interesting in its alternative content offering are Playstation-based video gaming competitions. Sony, Playstation, and Naughty Dog held such an event this month in four theatres across the US. The reason for the event was a "sneak peek" of Naughty Dogs latest game release UNCHARTED 2: Among Thieves. Having the luck that the only designated theatre in LA was close to home, your author stopped by, skipping the VIP event, where he was sure to only see what he was supposed to see, and went to the public event where guests actually paid to attend.
The event was held on a Tuesday evening. Tickets were $15, providing access to the entire evening of games from 6pm onward. The number of attendees was limited to 120, and although I was a late arrival, tickets were not sold out. Once inside, I was surprised by the amount of installation work required to host the event. Across the bottom of the cinema screen were ten adjacent 40-50″ HD monitors, as can be seen in the photos on this page. These monitors were driven by individual Playstations, which in turn were networked. Network and power cables could be seen crossing the floor, some terminating in the projection booth. On screen was projected the video as seen by one of the gamers. (Just so there is no doubt, the game video was HD, not 4K.)
A contestant manned each of the ten stations. Narrating the event was a master of ceremonies, somewhat akin to a disc jockey. There was constant dialog over the speakers. For at least this particular event, game times were kept to a few minutes, which kept the action moving, and prevented boredom for those in the audience.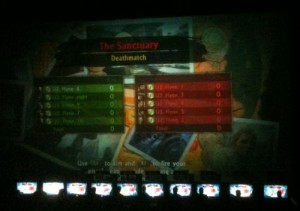 From a business proposition, the event didn't seem to be compelling. The complexity of the setup, the presence of a master of ceremonies, and the 100 or so heads in the audience indicated that this had to have been a subsidized event. The theatre probably got in the neighborhood of $500 rental for the night, along with concession sales. Pretty good for a Tuesday night, but not an event that could be rolled out week-after-week.