Kodak demonstrated its laser-light projector a few months ago, which was covered in this publication's September report. Whether the Kodak variety or not, a laser projector is unlikely to be marketed for quite a few years. However, one should not take their eyes off of this technology. To understand why, we resurrect the Digital Cinema Technology Adoption Curve, shown below.
Figure 1. Digital Cinema Technology Adoption Curve
The classical view of technology adoption patterns is that the market dynamics change at each gap in the curve. The hardest of all gaps to cross is called the "chasm," which your author gloriously predicted would be a very real problem for digital cinema in 2006. In a few years, the US will reach the 50% point in the number of converted screens. The adoption curve predicts that the demands of the market will shift. The "Late Majority" will likely want more value from their digital cinema systems. Manufacturers will be striving to reduce system costs. By the time the "Late Adopters" enter the market, the demand for value will only be further emphasized.
Not shown in the curve is the demand for replacement systems, which will begin in about four or five years. Assuming that coincides with the late adopter stage, the industry will see a lot of competition at the value level. This is where laser projectors could become a significant play.
Laser light has the advantages of lower heat dissipation, higher efficiency of light generation (i.e. less power required to operate), and optical properties that significantly reduce the cost of the optical components. Politicians should pay heed that optics, not the resolution of the imaging device, is the largest contributor to projector cost.
The pictures below demonstrate how advanced the developmental effort is for this technology. We thank Barry Silverstein, manager of the Kodak laser projector project, for sharing his photos with us.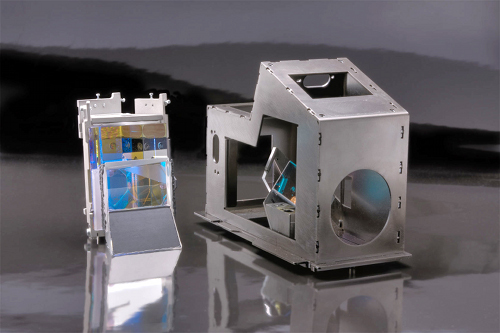 Figure 2. TI Prism and Kodak Optical Assembly, Side-by-Side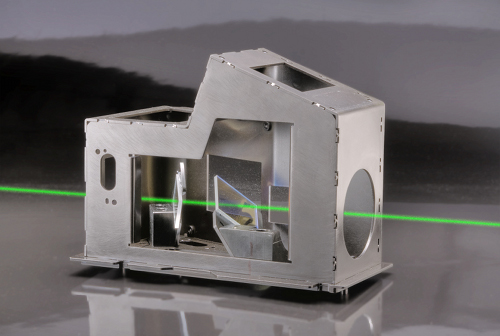 Figure 3. Kodak Optical Assembly
Kodak's research and effort in laser projector development proved above all that the optics cost is significantly reduced when laser light is used, versus xenon light. The photos above give a sense for how much simpler the laser light optical path is than the normal DLP optical path. Both solutions use DLP.
What can't be seen is the quality of the optics. A xenon light source requires a large aperture due to the sizeable arc of light produced within the lamp. Laser light, in comparison, does not require a large aperture as the spot size of the laser is quite small. In terms of quality of optics, the xenon lamp requires a faster lens than the laser light source. Kodak's optical path was designed for an f number of 6, versus an f number of 2 for the TI prism. To further illustrate, Kodak's projector allows the use of a $500 lens, such as that used by 35mm projectors. A lens for a DLP projector will cost at least 5 times as much, due to the fast lens speed required.
One of the features of laser light sources is that it allows for electrical oscillation of polarization with no light loss. This eliminates the light loss due to external polarization of light that takes place in RealD and MasterImage 3-D add-on systems, providing high brightness 3-D for less lamp power.
But laser projectors have their challenges. Among these is speckle, metameric failure, and safety codes.
Safety codes generally restrict the use of laser light in public places. In the US, the Food and Drug Administration (FDA) also regulates the use of lasers. In the cinema application, the safety issues are equivalent to that of xenon lamps. Eye damage is possible when looking into the lens of either type of projector. But with current laws biased against laser light, it'll take significant effort to lift existing safety restrictions. Both Kodak and Sony are said to be working with government agencies to bring about such changes.
Speckle is much talked about. Speckle occurs when coherent light waves of a single frequency clash. The clash can cause the waves to add, in which case a bright speckle occurs. Or the waves can cancel each other, causing a dark speckle. The speckle is most noticeable with the green primary, as the eye is more sensitive to green. This author did not see speckle with the Kodak projector, although the developers say that some speckle can be seen once you know what to look for. Kodak says they can improve speckle in their projector. Interestingly, Laser Light Engines, a companion developer of laser light sources for projectors, say they have successfully addressed the problem.
Metameric failure, however, receives less attention than it deserves. Metameric failure occurs when two people see different colors under identical circumstances. Laser primaries naturally have a very narrow bandwidth, which commonly results in metameric failure. The broad bandwidths of filtered xenon primaries don't exhibit this problem. Practical laser solutions may have to generate broader primaries, as well. Kodak believes the problem is small enough to be acceptable for commercial use, but not post-production use. Laser Light Engines did not claim to have a solution, but it's apparent they are working on it.
Kodak's approach to laser primaries is to use individual laser sources per primary. One such laser assembly with optical coupler is shown below in Figure 4. The circuit board on the right is a low power laser. Multiple such lasers are coupled to provide the light power needed to illuminate a screen.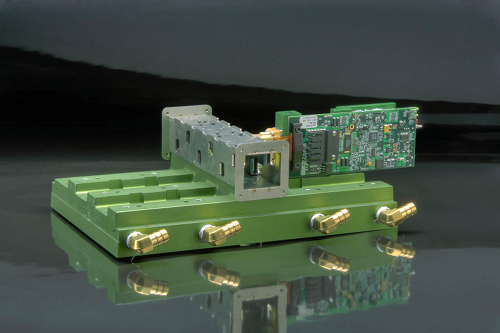 Figure 4. Kodak Laser and Optical Coupler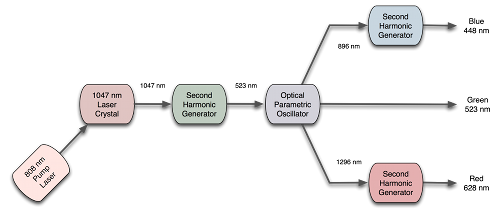 Figure 5. Derivation of Primaries From Single Laser Source
The Kodak approach requires specialized lasers, although Kodak says they have a supply for the lasers at prices that will allow their projector design to compete with today's DLP projectors. Laser Light Engines prefers to use readily available, high power infrared lasers, where the correct primaries are achieved through optical processing. Figure 4 shows such a scheme.
It remains to be seen if laser light technology will be ready in 5 years for the late adopters and replacement orders. But with the degree of effort now being put into the development of this technology by companies such as Sony, Kodak, and Laser Light Engines (which is backed by IMAX), this technology is destined to one day light up cinema screens.