At this month's ICTA conference on cinema technology, the event planners were hard pressed to present anything new to its paying guests. So they re-visited an old topic of boothless cinema design, and invited Tom Holman of TMH to present the 10.2 audio format as the future of cinema. Hardly new, Tom has been passionately promoting the concept since the mid-90's. While it may appear odd to choose this time for resurrecting Tom's idea, he is not alone in promoting new audio formats.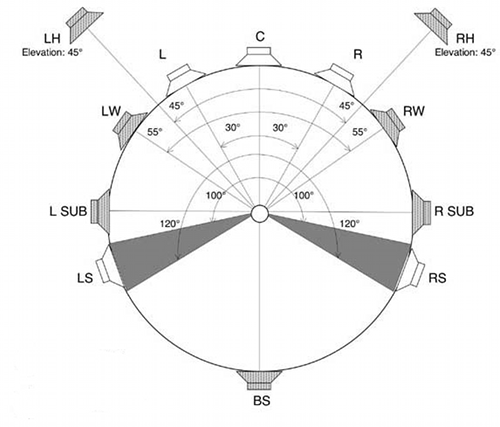 TMH 10.2 Sound Format
IOSONO is well known for its "3D Sound" capability. Not interested in simply adding more speakers to the room, IOSONO engages in spatial processing to give sounds actual dimensional placement. Such formats inevitably only work within a sweet spot, and IOSONO worked hard to widen that sweet spot to a large part of the auditorium. When first introduced, IOSONO was talking about a $150,000 sound system, a high enough figure to make even a digital cinema projector look cheap. A wiser IOSONO eventually emerged to bring that cost down to the $50,000 range. It expanded its presence in Hollywood, and landed Disney's Tron Legacy as its first release, with an agreement in place to install 50 systems for the release of the movie.
Up to this past year, IOSONO's budget appeared to be unbounded. Its Hollywood presence was substantial. When asked where the money came from, IOSONO execs pointed to the inventor of the technology, Karlheinz Brandenburg, who was collecting more royalties from MP3 encoders than he knew what to do with. But apparently, economics caught up to Karlheinz. After landing its first big gig, IOSONO couldn't fund the 50 systems it signed up for, and Tron Legacy was released without it.
Undaunted, the IOSONO Hollywood office lined up Fox's The Chronicles of Narnia: The Voyage of the Dawn Treader, for what was reported as "significantly less than 50 screens." But even that was too much for its German investors. Faced with a lower-than-expected second round of funding, IOSONO's investors instructed it to cut budget. Preserving their German home office, the execs decided to cut its Hollywood presence, including its commitment to Fox. A stunning move for a company that was on the very cusp of the success it had invested so much to build. Also lost along the way was its tour planned for this month's ICTA conference, an attempt to broaden the organization's horizon with exhibitors.
But all is not lost for IOSONO. Rumor has it that the company is in negotiation with Dr. Man-Nang Chong of GDC, and one of his company's dealers, Joon Ho Lee, of Eugentek in Korea. If the licensing deal is successful, Chong and Lee could own the worldwide rights to IOSONO for cinema. It will be an interesting test for Chong, who will need the support of US studios to bring success to the technology. No doubt Chong is feeling his success in the US, where his company's server has now surpassed Dolby in number of installations, raising GDC to the #3 position in the US. (Doremi and Sony rank 1st and 2nd, respectively.)
Chong will not be without competition. Wilfried Van Baelen's Auro 3D multi-channel sound for cinema is also gearing up. Wilfried flew out to Los Angeles this month to attend ICTA and meet with studios. If Barco decides to back him, as rumor has it, things could get interesting. Tom Holman's hilltop position is about to get crowded. Now all they each have to do is find a market.