SMPTE's 21DC ad hoc groups and working groups met this month. For the working groups, it was their last meeting. 21DC10 Mastering, chaired by Al Barton (now with Fox), and 21DC30, chaired by your author, will be retired in the formal Technology Committee meeting to be held in March. The change has been a long time coming, as the committee is smaller and easier to manage today than in the past. Moving forward, the committee will consist of less formal ad hoc groups and study groups, all of which will report directly to the parent Technology Committee.
However, much work continues. At the mastering level, a long-asleep group for defining metadata for use with DCDMs is only beginning to wake up. The output of this effort will be recorded in a new document numbered 428-8 DCDM Metadata. Audio channel label work is moving forward, with drafts documents finally taking shape. Audio channel labeling will individually label each audio channel for easy packing into a track file, and for each recognition by the server. Servers should be designed to route each labeled audio channel to a pre-determined output. Groups of labels will be assigned a "Soundfield." The soundfield information should be passed on to the audio processor. A preliminary sketch of the scheme is illustrated below.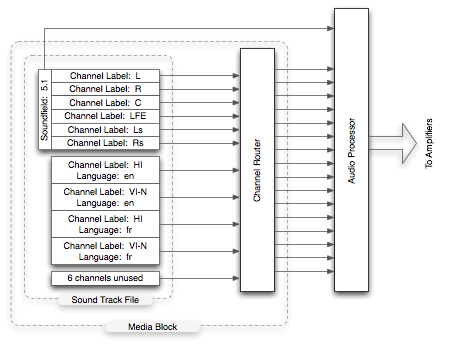 As reported before, what's notable about the audio channel labeling effort is what's missing. It will take considerable involvement by exhibitors to explain to manufacturers how they want the routing of channels to work. In addition, audio processor companies are asking how their products will receive the soundfield information. However, there is no effort underway to standardize such communication.
A revision of the master document for SMPTE DCP, 429-2 DCP Operational Constraints, passed ballot this month, and is now in the comment resolution stage. The comments are expected to only lead to editorial changes, and not substantive changes that require re-balloting of the document. The majority of changes in the document address clarifications that were needed. Substantive changes were made in Annex A, which addresses how non-channel-labeled audio is packaged. An unlabeled 16-channel format was added, much needed for DCI testing purposes and the introduction of ad hoc sound formats, and the 7.1DS format was added. Depending on the speed at which the final approval process takes place, the revision could be placed for sale on the SMPTE web site this summer.
The trailing slash problem in XML namespace names is finally on its way to resolution. Older readers may recall that SMPTE inadvertently issued the 433 Datatypes standard with a different namespace name declaration in the normative document than that used in the informative XML schema file that accompanies the document. Manufacturers tend to use the schema file without checking the document text, and errors occurred. As a result, four documents will be forwarded for ballot next month:
430-4 Security Log Format
430-7 Facility List
430-9 KDM Bundle
433 Datatypes
New work is on the horizon. A work statement has been generated for revising the way in which SMPTE 428-7 Subtitle describes how text is to be rendered. The main purpose of the revision is to include 3-D text rendering in the document. However, improvements are sought in a few areas of 428-7, and that effort will be included in the new ad hoc group's scope.