The Boston Globe newspaper quickly made its name in cinema circles with its 1st page article on May 22 titled "A movie lover's plea: Let there be light." The article targeted major cinema chains AMC, Regal, and National Amusements with presenting dark 2-D images to audiences in their use of Sony projectors. The writer went further to commend Christie DLP projectors as providing a better presentation. Not slow to take advantage of its competition, Cinemark, which uses Barco DLP projectors, issued a press release touting the brightness of its pictures. This is perhaps the first non-technical article to dig deep enough to link a real performance problem not only to the use of digital projectors, but to a specific make of projector. Just as there are some truths to the article, the writer made a few errors. But no matter how one looks at it, the finger still points to Sony.
The writer correctly understood that projecting 2-D images through a 3-D polarizer would lead to less-than-expected light on screen. The audience, when wearing 3-D glasses, will experience ~85% loss of light through a single lens single projector system (i.e. not RealD XL or dual projection). Assuming equal loss at projector and glasses, then ~42% of light is lost at the projector, and ~42 of light lost by the glasses. Leave the filters on the projector, and you get ~58% of the intended light.
On closer inspection, it's a little more complicated than the writer explained. The lamp for 3-D presentations is usually cranked up to achieve the minimum 4 ft-L deemed necessary for 3-D presentations. If running 10-20% higher than expected, and not cranked back down for a 2-D movie, then the audience is getting a light level above 60% of normal. One can stretch to understand why someone might "make the call" to leave a polarizer in place. However, without taking measurements to verify actual light levels, operators are taking a risk in doing so.
Most owners of DLP projectors will wonder why anyone would even bother leaving any element of a 3-D system in place when showing a 2-D movie? DLP projectors are largely automated in operation, and take a good deal of pain out of switching to a 2-D movie. This is as it should be: the high cost of equipment should lead to somewhat lower cost of labor to operate. But not so, oddly, for the Sony projector. Sony's accommodation of 3-D took some clever thinking, resulting in the "over-under" projection of left eye/right eye images. Sony likes to tout this as a feature, compared to the sequential projection of left eye/right eye frames by a single DLP projector. But it requires a complicated lens assembly, and results in less-than-2K images, with 100 pixels chopped off top and bottom. That means leaving a 3-D lens on a Sony projector during a 2-D movie presents the audience with a less-than-2K image.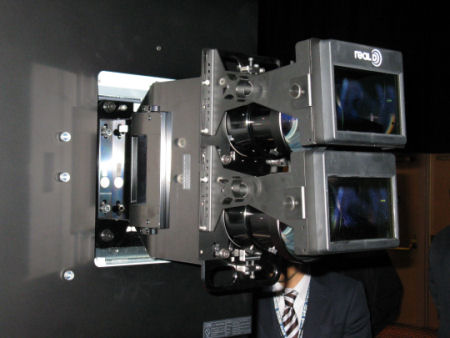 Where the writer of the article got it right is that most projectionists leave the Sony 3-D lens on the projector, regardless of the less-than-2K operation, and the risk of lower light levels. One look at the photo shows why: it's complex to remove. Sony's updated web site – which took a week to post as the company gathered its defense – says the lens takes 20 minutes to remove. And what about exposure to risk? Training the help behind the concession counter to push "play" is one thing. Risking damage of a sophisticated lens assembly should it be dropped is another. In private correspondence, Sony says that the RealD filters seen in the photo can flip aside. But the photo doesn't tell us how. Sony engineers, being engineers, would never have envisioned leaving the 3-D lens in place for a 2-D presentation. Why would they make the RealD filters easy to flip aside?
The response from exhibitors only left Boston Globe readers wondering if the exhibitors heard the writer's complaint. "Patron response has been overwhelmingly positive toward digital cinema and all of the associated entertainment options provided by this technology." "We are not experiencing any issues with Sony 4K systems." You'd think the writer was talking to Apple about a security problem. Only AMC had the wherewithal to acknowledge that 3-D polarizers left in front of the lens will reduce light, but unfortunately stopped short of saying that the company had a policy to replace the lens during a 2-D show.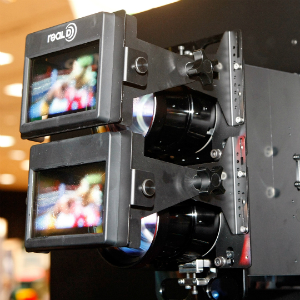 Predictably, and deservedly, the response on the blogs by DLP projectionists has been smug. Sony forgets that it's biggest sale ever was due to a major screw-up by Texas Instruments, and the willingness of its customer's management to ignore the pleas of its technical staff. The company still has a ways to go before it earns the respect of cinema technicians…and of a non-technical writer at the Boston Globe.