We're reaching the end of the beginning. Deployments in major markets are rapidly nearing the 50% point. The installation base of digital screens grew over 100% this past year, to 47,000, up from 22,000 a year earlier, a phenomenal growth rate unlikely to be repeated in percentage.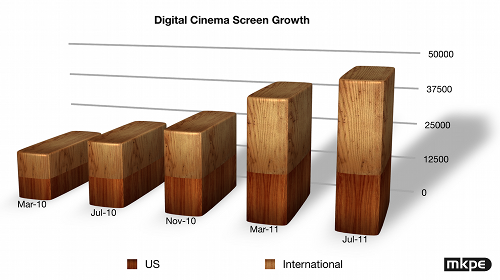 3-D may have been the driver for digital cinema adoption, but VPFs are completing the job by encouraging 100% conversion of complexes. In the figures below, the growth of 2-D screens is evident outside of the US. The growth of 3-D screens in the US is likely to taper off, as 3-D attendance drops off. The audience preference for 2-D performances continued (sadly and unexpectedly) with Transformers: Dark of the Moon, and is unlikely to change with the upcoming release and last episode of Harry Potter. While Michael Bay succeeded in impressing exhibitors prior to the bow of Transformers, his first 3-D release, Warner has only its shoddy history of low quality 3-D to stand on.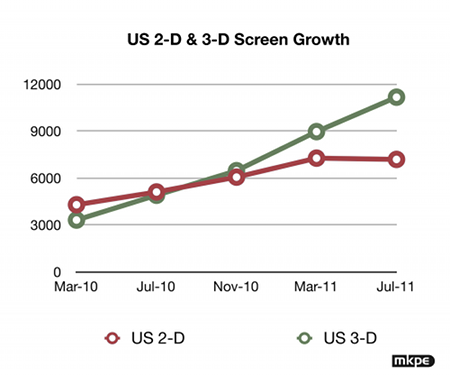 ---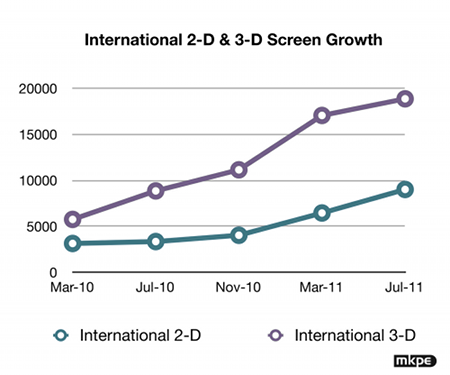 With the growth of digital cinema assured, the industry now wrestles with the issues that affect how digital cinema will sustain over the coming years. These issues include:
Improving the digital workflow.
Adapting to improved technology without tossing DCI into the can.
Living with NIST, whose specification no one has control of.
Can the industry get away with one system for all?
Is the industry heading towards diversity in trust?
The battle lines being drawn between server and projector manufacturers.
These topics are covered in depth in the remaining reports in this issue.