The Hobbit in HFR 3D is a new visual format whose images are captured at 48 fps per eye. In contrast, a "normal" 3D movie is projected 24 fps per eye. We use the term "frames per second per eye" to be descriptive about how the content is captured and delivered. However, once entering into the world of 3D presentation, the actual number of frames shown on-screen will vary, which can be quite confusing. It is the point of this article to help readers understand how 3D, and in particular, how HFR 3D works.
A stereographic presentation delivers both a left eye picture and a right eye picture to our eyes, which our brain then interprets as a 3D image. In 2D cinema, audiences are accustomed to 24 fps pictures, which is also the number of frames per second sent to the projector. 3D projection, however, is more complex. In 24fps 3D, 48 frames per second are sent to the projector, because there must be a 24fps sequence of pictures for the left eye, and a simultaneous 24fps sequence of pictures for the right eye (2 x 24fps = 48fps). Conveniently, 48fps is a frame rate specified by the DCI specification. It takes more capability than that described by the DCI spec to implement a working 3D projection system. But it is a result of the DCI spec that all digital cinema systems have an inherent ability to project 24fps 3D, and is a major reason behind the speedy adoption of the 3D format.
The Hobbit was shot using a frame sequence of 48fps per eye. The number of frames per second sent to the projector, therefore, is 2 x 48fps, or 96 fps. That's twice the speed of conventional 3D, and twice the highest frame rate called for in the DCI spec.
There is substantial interest in going beyond 48fps per eye and shooting in 60fps per eye. Some directors are exploring even higher frame rates. There are good reasons for this. First, higher frame rates produce less motion blur. The more motion in the scene, the less blur that will be observed at higher frame rates, making the picture sharper. Second, and a much lesser known reason, is to reduce the spatial distortion that can occur with movement and sequential projection.
Sequential projection of 3D is the most popular method used today in cinemas. This is because sequential projection requires a single projector, where left and right images are alternately shown on screen. In contrast, dual projection, or projectors that display both right and left images simultaneously through the same lens, such as Sony's projectors, show left and right images simultaneously on screen. There are significant advantages to sequential projection. Cost is lower, as only one projector is needed. And projector alignment is not needed, as sequential presentation inherently aligns left and right images perfectly on screen. Dual projection, as well as Sony's simultaneous method that requires a special lens, are more expensive, and require human intervention to assure alignment. In fact, the alignment issue with dual projectors can be a source of conflict with some studios, which require the exhibitor to demonstrate that they have staff that is expert in 3D projector alignment.
While sequential 3D projection has numerous advantages, it also has an inherent flaw: our eyes want to see left and right images simultaneously. For this reason, sequential projection works best when the sequential rate is fast, fooling our eyes into believing that they are seeing left and right images simultaneously. To accomplish this, the sequential projector will "flash" the stereo pair of images at a faster rate than the native format in which the images were shot. For 24fps 3D, the stereo pair is presented sequentially 3 times, which is referred to as "triple flash." For 48fps 3D, the stereo pair is presented sequentially 2 times, or "double flashed." A movie in 60fps 3D has yet to be released to cinemas. However, with 60fps 3D, no sequential flashing on screen of the stereo pair of images is needed.
The illustration below depicts several aspects of sequential 3D projection with 24fps 3D, 48fps 3D, 60fps 3D, and 120fps 3D. First, it provides a visual comparison of the relative rate of frames on screen, to offer some appreciation for the ability of each format to reduce motion blur. Second, it also illustrates how the "flash" rate works in terms of the presentation of frames on screen. As there is some interest in 120fps 3D, it is included in the illustration, too. Recall that HFR 3D for The Hobbit is in 48fps 3D.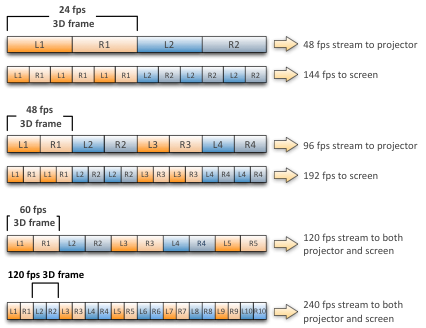 Other than the logistical impacts on distribution and projection systems to manage higher frame rates, an increase loss of light is possible in the projector is there is any blanking period between frames. In addition, an increase in the loss of light in some 3D add-on systems is expected, due to dark periods between flashed frames introduced by the 3D add-on system.
The effects of sequential flashing on the perception of 3D motion has been observed by cinematographers, but has not been well studied. The effect generally results in a misinterpretation in directional motion of objects having dimensional depth in the scene. The illustration above should indicate why an improvement in this effect should occur at higher frame rates. Notably, little if any study has taken place to document such improvements. The High Frame Rate Study Group in SMPTE seeks to learn more about such effects. A special group, led by Michael Karagosian and cinematographer David Stump, is planning the production of test material designed to learn more about higher frame rates. The planning of the shoot began with the need to set targets for the compressed bit rate so that future equipment could be optimally designed for high quality HFR presentations. But the tests will include sequences to better understand the effects of motion and depth perception in sequential 3D projection, and the sequential frames rates where a reduction in benefits begins to occur.