Dolby Atmos is unique as cinema sound systems go. It utilizes both channel-based and object-based sound, and it requires a separate audio server to play and render sound for the auditorium. It's a sophisticated system that requires more capability than the ordinary digital cinema system. That sophistication will make also make it difficult for non-Dolby servers and integrated media blocks (IMBs) to work with Atmos.
A normal digital cinema sound system receives audio from the 16-channel audio output of the server or IMB. An Atmos distribution, however, requires that a separate audio track file be loaded into the Dolby cinema processor. Notably, both the 16-channel audio track file and the separate Atmos track file must be present for the system to work. The Dolby cinema processor serves as a separate server in the system, but strictly for the Atmos mix. To synchronize Atmos audio to picture, a digital time code is needed between the IMB and the Dolby cinema processor. The time code is carried in the 16-channel audio track file, and is transmitted from a digital audio output of the IMB to the Dolby cinema processor. The time code signal will carry more than just timing information. It will also carry content identifier information and possibly other data useful to communicating to the Dolby cinema processor as to which Composition is currently playing. Dolby is proposing to standardize this time code signal in SMPTE DC21.
The Atmos sound track will need to be encrypted to meet studio security requirements. That also means that the Dolby cinema processor will need a FIPS-approved decryption engine, and a secondary KDM. Although not verified with Dolby, one would expect the secondary KDM to be a separate KDM coded to the unique public key of the Dolby cinema processor. The Dolby cinema processor will also need to forensically mark the Atmos audio tracks going to the speakers. It remains to be seen if Dolby intends to mark all 64 channels.
A block diagram for the Dolby Atmos signal path is shown below.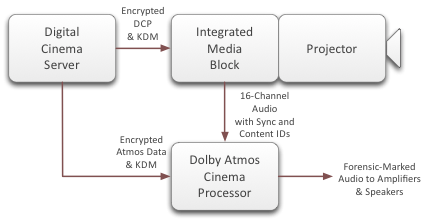 Upon examination, the block diagram begs a few questions. When first announcing Atmos, Dolby made it clear that it would not require a Dolby server and IMB to work. However, when fully integrated in the DCP, Dolby's process will require that the system can identify the Atmos data track and move it to the Dolby cinema processor. As pictured by Dolby, the movement of that data requires a separate network segment, which may not be available on most products. Importantly, there may not be an outboard server at all given the most recent trend towards integrated media servers (IMS) where both server and media block are installed as a compact unit in the projector. At least one manufacturer has already expressed concern that their newly introduced IMS product may not be able to support Atmos.
Security key management will be more complex with the addition of a FIPS processing unit in the Dolby cinema processor. Dolby servers today are infamous for not being friendly with security key management systems. Dolby will have to work doubly hard to bring security management friendliness to its new systems. In addition, security key management companies will need to scratch their heads on this one, too.
Those concerned with the complexity of multiple versions of content inventory need not worry about Atmos adding to the number of versions. Instead, they should worry about the growth in size of the DCP. Compositions with Atmos tracks will also carry a main sound track file, which will contain either a 5.1 or 7.1 audio mix, in addition to the Atmos mix. Notably, there is nothing that prevents the 5.1 mix from also carrying Barco's Auro3D format. If the Atmos system should fail, or is simply not installed, the digital cinema system can revert to the 5.1 or 7.1 mix. If Dolby's distribution scheme is followed, only the size of the composition will increase, not the number of versions.
Just when users thought that digital cinema was becoming manageable, it will soon get more complicated. Atmos truly adds a new wrinkle to digital cinema.