Anyone fortunate enough to have experienced Doug Trumbull's Showscan format in the 80's will understand the drive behind high frame rate motion pictures. While Peter Jackson's Hobbit was shot and projected in 48fps, a frame rate higher than 24fps, it didn't convey the magic that Trumbull was able to achieve at 60fps. Numbers do not capture the difference in perception one experiences at 60fps and higher.
Memories of Showscan could have followed Mr. Trumbull into his retirement had it not been for the advent of digital capture and digital projection. Fortunately, Mr. Trumbull is not only around to experience these innovations, he has also taken advantage of them. Unable to raise funding to demonstrate that high frame rate 3D is indeed a thing of beauty, he decided to produce his own 10-minute movie, titled UFOTOG (an acronym for UFO photography), to prove his point. Mr. Trumbull not only has vision: he has technique. The production served as a proof-of-concept for the high frame rate technology and workflow that he has named MAGI. MAGI incorporates a 3D capture technique designed to correct certain ills found in current productions, and UFOTOG employed a variety of shots and post-production steps that a typical project would encounter.
UFOTOG premiered in April this year at the Seattle Cinerama Theater in 4K 14ft-L 3D at 120fps (60 fps per eye). The Seattle presentation utilized the Christie Mirage 4K35 projection system, notably not a digital cinema projector. Unlike current digital cinema projectors, the Mirage 4K35 is the only single-head projector that can deliver 4K 2D at 120fps, or 4K 3D at 60fps per eye.
Trumbull's format differs in significant ways from the usual 3D production. MAGI incorporates 4K resolution at 60 frames per eye, an unconventional frame rate for mainstream cinema. Most uniquely, the format employs a 180 degree shutter angle, effectively staggering the shutter opening for left eye and right eye during image capture. The graphic below provides a visual depiction of Trumbull's MAGI image capture method.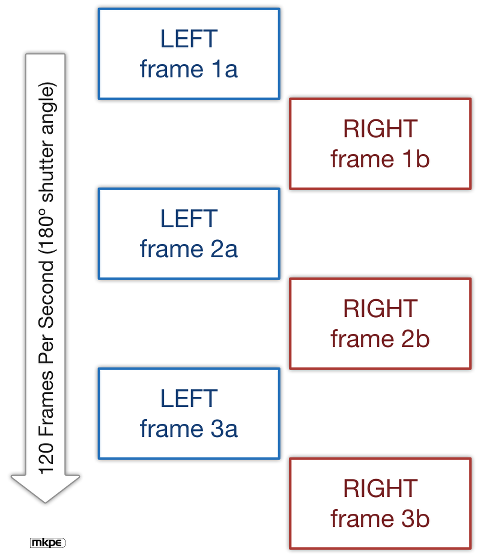 Figure 1. Trumbull's MAGI image capture format, showing staggered 180 degree shutter angles for left/right images.
The beauty of the MAGI format is that it projects perfectly in a single projector as a sequential 3D stream. The staggered shutter angle removes the temporal distortion present in ordinary sequential 3D projection, where stereoscopic left and right frames are captured at the same point in time but projected in a different temporal sequence. Additionally, the high 120 frame per second rate does not require "flashing" of frames, where stereoscopic frames are repeated and interleaved, as used with lower frame rate 3D. The result is that what you shoot on camera is what you see on screen. Figure 2 below depicts single-projector sequential display of the MAGI format, based on the sequence of shots shown in Figure 1.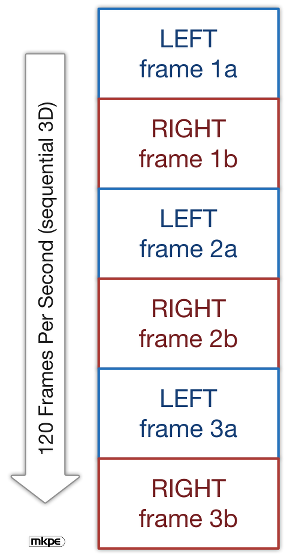 Figure 2. The MAGI format as projected on a single projector, following the capture sequence shown in Figure 1. Note the absence of temporal distortion, with every frame appearing on screen in the temporal sequence in which it was shot.
At the September IBC convention in Amsterdam, Mr. Trumbull presented UFOTOG using Christie's dual-head laser projection system. This was not shown in the 60 fps-per-eye sequential 3D format of the Seattle presentation, described above in Figures 1 and 2. Instead, the IBC presentation was shown at 120 frames-per eye using Christie's dual head laser projector system. To achieve this special presentation, Trumbull had to interpolate each frame of his original movie in post-production. It would have been easier to require the doubling of each frame in the projector, but this would have re-introduced a form of temporal distortion, counter to the goal of the MAGI format. Figure 3 below depicts how the IBC presentation was conducted.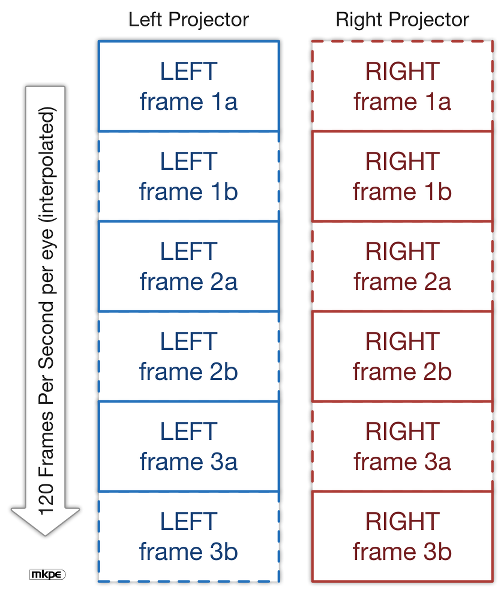 Figure 3. The MAGI format as shown with dual-head digital cinema laser projector. Frame interpolation was required (dashed frames) so as not to introduce temporal distortion.
If UFOTOG itself can be called an experiment, then the IBC presentation was even edgier. Trumbull was not able to preview the content on the laser projection system until present in Amsterdam. The playback system broke every few minutes, due to synchronization issues with the dual 120fps projection streams, requiring frequent restarting of the movie. Regardless of this inconvenience, however, the presentation served Mr. Trumbull well. It proved his point to a large body of technical and creative types: higher frame rates can look good, and can work particularly well with 3D.
Having now seen UFOTOG projected both ways, I found the screenings to be equally impressive. But moving the MAGI process into mainstream cinema will require certain compromises. No digital cinema projector available today can display 4K at 120 fps, and such improvements are not expected overnight. This limits MAGI to 2K 3D in distribution, which is not likely to be a deal-breaker. Another quality of the format is the use of 14 ft-L 3D, requiring far more light than the all-too-common 3 ft-L 3D projection systems now found in cinemas. To achieve this amount of light on a big screen with a single projector utilizing sequential 3D, which is the primary display method for MAGI, is next to impossible, even with the emergence of laser projectors. (The best of the laser-illuminated single projectors top out around 30,000 lumens in 3D.)
As elegant as the MAGI format may be in concept, the realities of digital cinema technology dictate the interpolated format of Figure 3 for distribution, posing a challenge of its own. Dual-120fps streams require either two synchronized media blocks, or a specialized media block capable of much higher bit rates than currently available today. This makes MAGI a very special format, suitable for cinemas that embrace special formats, such as IMAX, or the exhibitor-branded Premium Large Format (PLF) screens that have emerged in recent years.
If introduced as a standalone projection technology, MAGI could face significant competition at the investment level. High dynamic range projection, largely made possible with laser illumination, is on the minds in Hollywood today, and will not be cheap. This suggests that if Mr. Trumbull's MAGI format is to take root, it will need to reconcile its approach with that of HDR. Perhaps a marriage is in order.