The higher contrast and more lifelike imagery of high dynamic range displays are getting the attention of the press. They are also likely to get the attention of the consumer. Although it will take a few years for this new technology to work its way across the general population, HDR could cause a change in viewing expectations. Meeting such expectations in the cinema, however, will be challenging. I'll explore a few concepts that could emerge.
The characteristics of an HDR image are higher contrast, manifested as deeper blacks and brighter highlights. This shouldn't be interpreted as merely a brighter image. The actual brightness of most objects should remain as they would be without HDR. However, in any display, more light is needed at the source to produce the additional dynamic range needed for highlights.
Consumer displays manage the additional light needed of HDR by either directly modulating the distributed backlighting of an LCD panel, or directly modulating light from direct emitting devices. Projectors, however, don't have the option to directly modulate the light source. Projectors start with a lot of light from a single light source, and allow only a limited amount of light to pass by modulating the light to produce an image. The modulation process is inherently inefficient, as any light not allowed to pass must be discarded. Hearkening back a decade, film in a film projector heats up because it absorbs the energy that it must block to produce an image on screen. In a DLP projector, the unused light is deflected away from the lens. It was reported last month that both RealD and Barco measure <10% average light on-screen, producing an inefficiency of >90% in cinema projectors. The process of modulation and discarding of light is illustrated below.
A significant quantity of light is discarded when projecting an image
As an example, the Dolby Vision projector works on the same principle as shown above, requiring a large amount of light at the source, but adding double modulation to improve contrast and details in blacks.
Another way in which inefficiency occurs is through the selection of primaries. This is particularly true when attempting to reproduce the Rec 2020 color gamut, illustrated below against Pointer's gamut (the squiggly line). Pointer's gamut is the gamut of reflected colors seen in nature, vs colors that are artificially generated, such as some neons. The primaries, represented by the tips of the triangle, are selected so as to encompass Pointer's gamut within the triangle. The chart below only represents one slice of the full color volume. But one can see that there are gaps between Pointer's gamut and the Rec 2020 primaries, generally representing wasted energy in a display. Rec 2020 is a useful 3-primary gamut for describing all colors in nature. But a display that incorporates Rec 2020 primaries will be inefficient when generating the color gamut found in nature.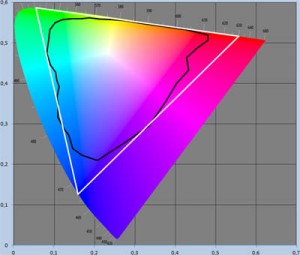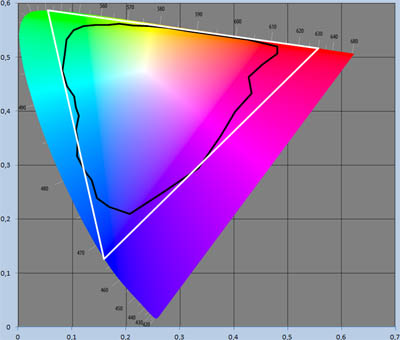 Rec 2020 color gamut against Pointer's Gamut (courtesy TFT Central)
The way around this is to create displays with more than 3 primaries, where a more boxy color gamut can be defined that will more efficiently generate the colors in Pointer's gamut. Some manufacturers of home entertainment displays have employed more than 3 primaries to more accurately produce colors. But no cinema projection system to date employs more than 3 primaries, including certain laser-based illuminators designed to accommodate the Rec 2020 color gamut.
Interestingly, it is the laser-based projectors that could most benefit from using more than 3 primaries, as unpublished research at Rochester Institute of Technology (RIT) reportedly indicates that an increase in the number of primaries is the best way to mitigate the effects of metameric variability. Metameric variability occurs when two observers do not agree on their observation of displayed colors. It's an effect significantly enhanced by the use of narrow wavelength laser primaries.
While it is possible to be more efficient in generating colors, there remains the 90% inherent efficiency of the projector to address. One scheme that has been proposed is to smartly redistribute the available light across the imaging device, rather than uniformly light the imaging device, as is done today. Redistribution of light would allow more light to be directed towards the image area where highlights occur, and less light where darker details exist, without increasing the available lamp power. This would not only make current-day projectors more efficient, but would also improve contrast, in addition to paving the way for HDR-capable cinema projectors. As an example, MTT Innovation, a Vancouver-based start-up, won an award earlier this year at Siggraph for its demonstration of a light-redistribution technique that could be applied to HDR projection.
If one were to judge the future of HDR cinema by current-day technology, it would be right to be pessimistic. Any attempt to re-create in cinema the high dynamics of home entertainment HDR displays will require a massive light source resulting in plenty of wasted energy. But as attention is directed towards the problem of building more efficient projectors, solutions are bound to emerge. Your future digital cinema projector could indeed be HDR-capable.