I was asked by my friends at MEDIA Salles to report how the COVID-19 pandemic has impacted cinema in the US. I don't have numbers for box office, and even if I did, they wouldn't be worth reporting. It isn't numbers that I find interesting right now. There are significant trends afoot, and considerations that business owners should now be thinking about.
There are two major factors that will impact consumer activity at physical retail operations, including cinema. The first is the direct impact of government-directed lockdowns. In the US, these may be issued at the state, county, or local government level. This first factor comes in shades of grey: there is a lockdown in place that requires cinemas to close, or partially open, or no restriction imposed at all.
The map below depicts how lockdown restrictions vary across the United States at the time of writing. It does not breakdown the variance in degree of restrictions imposed by local governments, but it does show the variance at the state level. As with any good reality show, the US has failed to implement a centralized strategy and everyone is out for themselves. States compete for supplies and equipment, and messaging is inconsistent. When the leader of a country spreads doubt about the effectiveness of masks, it's hard to convince every person to believe otherwise. The result is wide variance in how lockdowns and health-safety guidelines are implemented. The map, created and published by the Washington Post, a news organization owned by Jeff Bezos (not by Amazon), provides a good sense of this. The darker shades indicate strict lockdown rules that include the closure of cinemas, and the lighter shades indicate looser rules, where white represents no lockdown rules.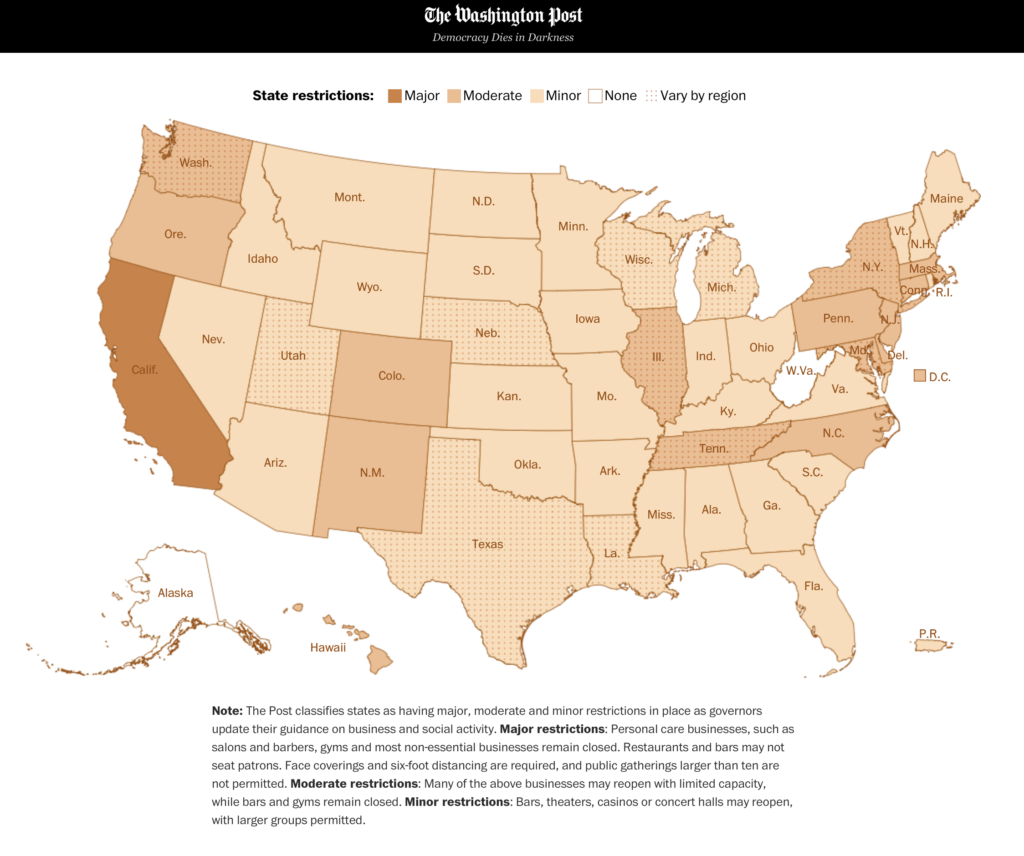 The virus first impacted major metropolitan areas. Lockdowns produced positive results, but economic and political factors led to loosening the restrictions earlier than medical experts now wish had taken place. What could have been a purely medical response turned into a political football. The result is that the virus is now spreading to all of the regions of the country, including those previously spared. This is evidenced by the illustration below from the New York Times.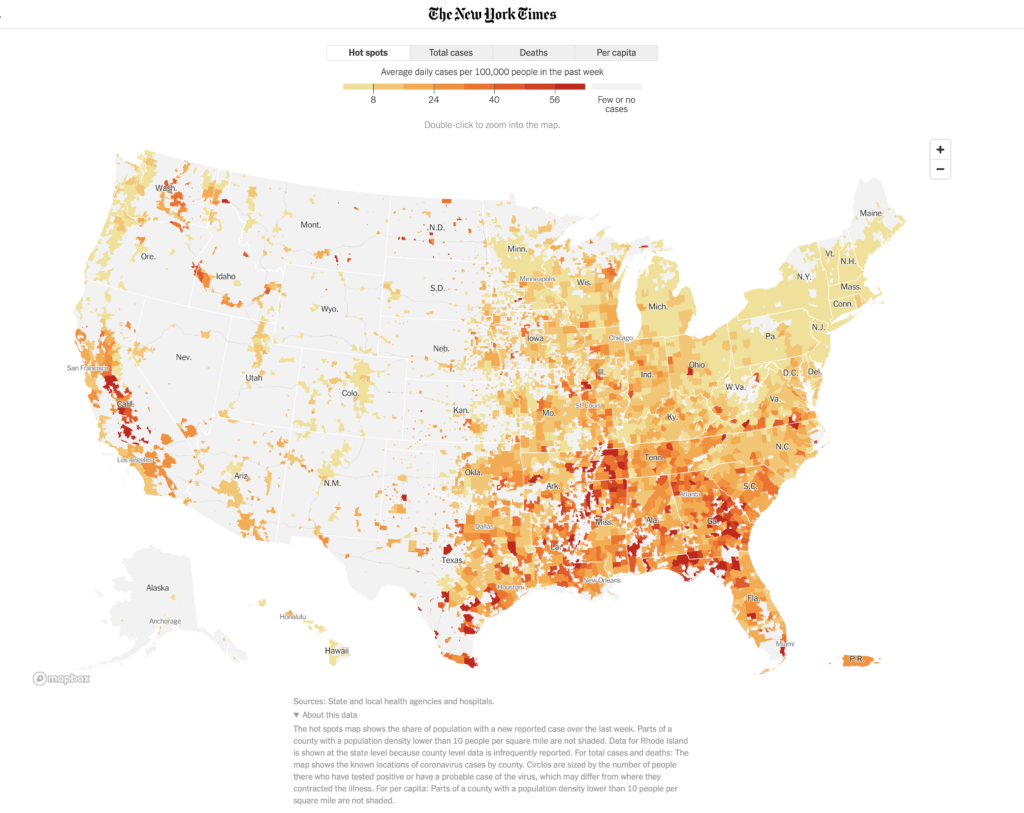 Three months ago, the West and East Coast regions of this map were red, with sprinkles of color in the middle of the country around major population centers. Three months from now, the map will again be different, possibly with more color in the Western half. In California, where I live, the center of the state is now a major hot spot, where the impact was only mild before. Sadly, as has been said by many medical experts and reporters, the virus doesn't discriminate.
The second factor that impacts consumer activity is the social response to the virus. As the virus impacts a region, people become wary of being around one another. The degree of wariness may vary across age groups, but overall consumer behavior is impacted nonetheless. It is this second factor that should not be underestimated. Of the many stories recorded from survivors of the 1918 flu pandemic it was the late William Sardo Jr.'s story that stood out to me, when recalling that it took four years before people were once again comfortable to congregate.
It is this fear to congregate that should be the focus of today's business conversation. The antidote to fear is trust, and building trust is the job of business owners. Every store-front business owner today should be concerned with how to build confidence to congregate. It should be thought of as part of one's brand. The anti-brand, of course, would be for one's business to be labelled as a hot spot of transmission.
For cinemas, the requirement for employees and the public to wear masks is a starting position. Attention to air circulation is also needed, with the intake of fresh air and possibly 24-hour fan operation. If UV254 light in HVAC systems is proven effective, it may become the defining investment of this period. On the downside, the allowance of food and beverage consumption in a closed room will be brought into question, as it becomes the common excuse for not wearing a mask while watching a movie. It's important to note that health experts do not expect vaccines to be 100% effective. Mask wearing and social distancing will continue to be required until the number of new cases reach a safe minimum. It's not inconceivable that Mr. Sardo's 4-year recovery could repeat itself with COVID-19 if businesses rush into re-opening unprepared and with the wrong messaging.
There have been some missteps in the US with regard to building confidence to congregate. The map below highlights how early openings have resulted in reversals in many states. Early openings have had a consequence.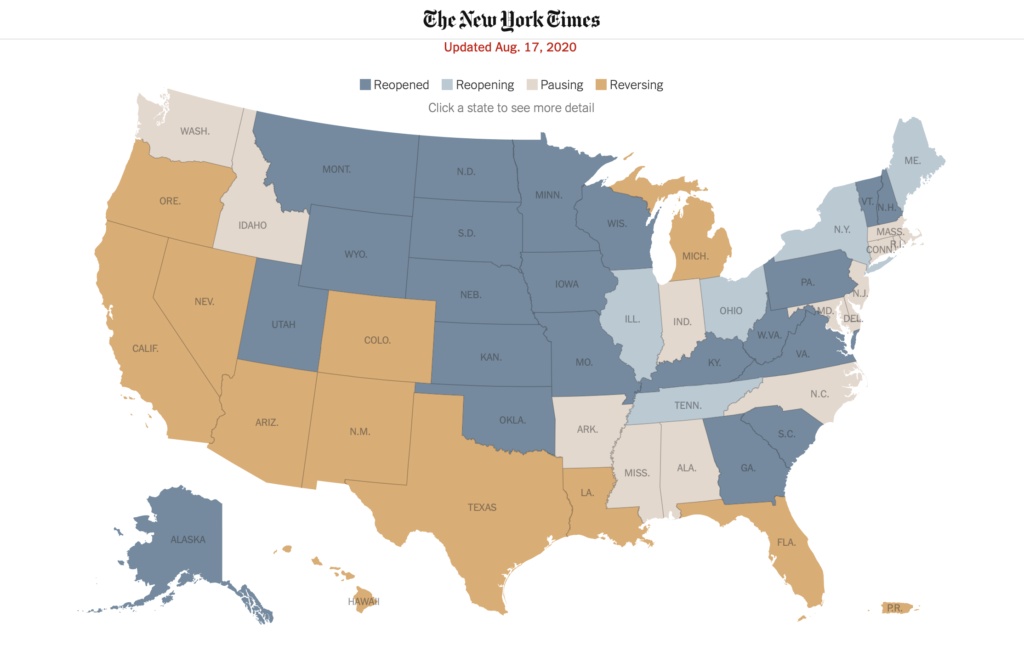 Messaging is important. The CEO of a major US cinema chain in June said its cinemas would open but not require guests to wear masks so as to "not be drawn into a political controversy." Such policies are dangerous to a cinema's brand. Any reasonable person concerned about their health isn't going to gravitate towards sharing a closed room with other people who do not share their sensitivity. Fortunately, after creating his own controversy, the CEO changed his mind. But the goof underscores the responsibility of the business owner in building consumer confidence, and in turn, building brand. On the surface, it may seem counterintuitive, but stricter policies, not looser policies, will be needed to attract consumers to retail operations again, including cinemas, in a speedy manner.
In addition to those factors that will affect attendance, one should consider that the cinema business itself is unlikely to come out of this unchanged. In addition to the pressure of keeping doors open with reduced audience, the length of the exclusive first release window will come into question.
Changes to the release window will not be driven by bold policy, but the distributor need to monetize inventory. For now, with little new content in the production pipeline, not much friction has occurred. There have been direct releases of movies to home through PVOD, but not such that one could say a major policy shift has taken place. Release dates of blockbusters have been shifted in a bid to maximize revenue through maximizing cinema attendance. While this may signal support for the tried-and-true motion picture release model, it is fragile.
Release dates can be comfortably shifted when there's little new inventory to fill the pipeline, and, of course, when the capital that financed the production is cheap. But things will change. Content production will ramp back up long before audiences are again comfortable being packed into cinemas. With full pipelines that need to be monetized, the value proposition of cinema supported by a lengthy first release cycle won't be as strong as it once was. The industry is likely headed towards significantly shorter first release windows from the majors. Whenever the release window has shrunk, it has never been known to expand back.
There is another factor that has cropped up that could lead to changes in the US cinema business. Since 1948, most major studios were refrained from ownership of US cinemas and block booking by an anti-trust decision called the Paramount Decree. The Decree was recently reversed, not unexpectedly, with a 2-year sunset placed on block booking and ownership restrictions. In the pre-pandemic world, this reversal would have made headlines, at least in exhibition circles. Today, it takes a back seat to the damage caused by the pandemic. Where this will lead is anyone's guess.
None of this is to say that the attraction to spectacle will forever vanish. There may not be a magic wand that returns the business to what it was pre-2020, and the industry is likely to go through fits and starts before things settle. But there will be opportunities. Consider the pressure on DCI that shrinking release windows will have. If the major studios are willing to release to non-DCI consumer gear a few weeks into a release, will the expense of ultra-secure DCI equipment in cinemas be justified? This is important, as much of the equipment in the field is at the end of its useful life and replacements will be sought. Additionally, independent cinema has a plus-side to consider. With VPFs now out of the way, the cost of fulfilling independent and regional productions will fall. It is a ray of light in challenging times, however small. Then there is production to consider, where tools are in the pipeline that will make it easier, faster, and cheaper for storytellers to create their vision with professional results, enabling independent writers, directors, and producers in new and positive ways. And, of course, there are new technologies to consider, in particular the availability of large light-emitting displays. At CES this past January, no less than five major LED display manufacturers touted wall-sized displays designed for entertainment. These were not DCI displays, but that may not matter in the future. The unique property of light-emitting displays is their ability to deliver a quality image in a partially lit room, inviting new movie experience models that will likely involve more food and beverage. All of these things will coalesce in the years to come.
Sadly, the impact of COVID-19 on human health is by no means over. The effect of this disease on the movie industry, and on business in general, is very much present and could linger for years after. Owners of store-front businesses, including cinemas, face a great many challenges, among which is the need to expand brand to include trust in guarding the customer's health. Attention to air circulation and air quality will be necessary to build confidence in congregating. Ironically, the US, once a leader in cinema and in health, will be a follower, well behind those nations whose infection rates are under better control. There will be a day when cinemas again entertain audiences in auditoriums filled to capacity, but it is unlikely to look like the business we knew.